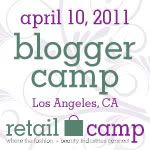 I am very excited to be attending Blogger Camp this Sunday!
blogger camp is Presented By

Independent Fashion Bloggers

and

FashionablyMarketing.Me
The business of style, fashion and beauty blogging is changing. From new technologies to new government and legal regulations, bloggers need to run their website like business. This one-day session will include
10:00 – 11:00 AM: Business of Blogging 2011 with
Jennine Jacob- Founder of Independent Fashion Bloggers,
YM OusleySignature9.com,
Macala Wright- FashionablyMarketing.Me,
Erin Weinger Editor-In-Chief StyleSectionLA
11:15 – 12:15 AM: Legal Side of Blogging – FTC Regulations, Legal Disclosures, Reporting Income…West Coast Legal Experts Tell You the 10 Things Every Blogger Needs to Know.
1:30 – 2:15 PM: Blogging & Your Finances – 10 things bloggers need to know about managing their money.
2:30 - 3:30 PM: Finding Your Niche & Your Voice – How and Why You Should March To The Beat Of Your Own Drummer.
Marie Denee-TheCurvyFashionista.com,
Valerie Elizabeth-SocietyStylist.com,
Tina Craig & Kelly Craig-BagSnob.com,
Mary Hall-Recessionista.com
3:45 – 4:30 PM: What's Next In Blogging? The Evolution of Indie Content Technology, How And When To Go Mobile and Creative Revenue Strategies
See you there!
Xx
ari