Out and About [Los Angeles] Young by Yoyo Yeung Collection Preview
(from left to right

LAfashionsnob

,

Analyssa Benedict

, me,

The Penelope Times

and

Jill Pineda

, photo courtesy of LAfashionsnob)
Last week I stopped by the

Young by Yoyo Yeung

Collection Preview event at their beautiful downtown Los Angeles showroom. The Young by Yoyo Yeung team was incredibly sweet, the collection is gorgeous and such a treat to be able to check out in person and as always it's such a pleasure to hang out with the lovely ladies from

Bollare

and with my blogging buddies! The collection is beautiful and edgy at the same time and extremely wearable. The silhouettes are simple yet eye catching and the details such as the materials, textures and embellishments lend the pieces the perfect balance making every single piece wearable for a range of lifestyles. Check out the images of just some of the pieces that I fell in love with (just some, there were many!) and of course big, big "thank you's" to the Bollare and Yoyo Yeung teams for putting together such a lovely preview event.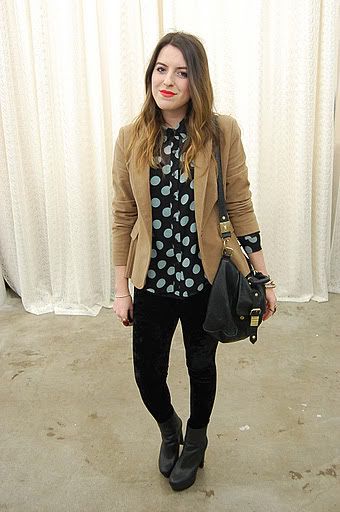 (photo courtesy of LAfashionsnob.com)
What I Wore: blazer: ZARA

(similar style from Shopbop here)

/ top: courtesy of

Swaychic

($28.50)

/ velvet leggings: Forever 21

(similar style available at Swaychic)

/ purse: ASOS / boots:

Steve Madden Desirred booties (now on sale for $50!!)
xx
ari