[The Fashion Round-up] What to Give Momma- Mother's Day Gift Guide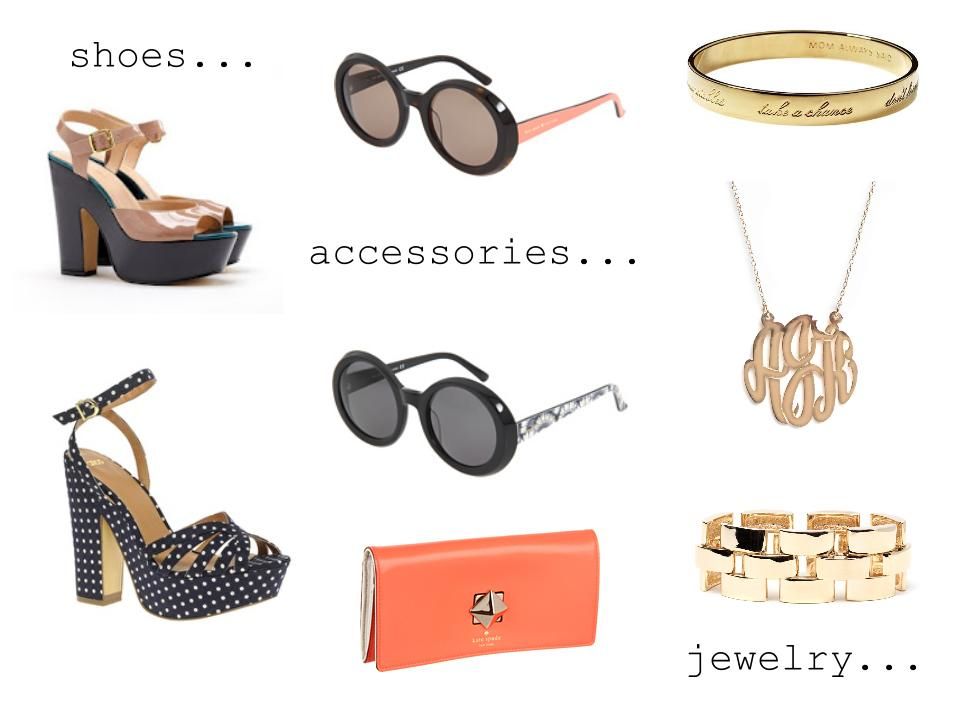 As you know I am lover of shoes, handbags, jewelry and all the small details that transform an outfit from basic to unique, in other words accessories. This is why, when brainstorming about what to give mom I arrived at the conclusion that 95% of the gifts I have ever given my momma for mothers day have been accessories (aside from flowers of course). This is why I bring you this little Fashion Round-up featuring a few mother's day gift suggestions that are oh so very lovely and perfect for sweet and caring mom.
First on the list...... SHOES
-

S

ole Society Kerra Color Block Platform $49.99-
This patent leather and color-blocked (in neutral shades) platform is the perfect balance between dressy and casual, they are a perfect everyday shoe that looks polished, stylish and edgy all at the same time (yes, it's totally possible). Must I add that this shoe is a major steal for only $49.99! I love seeing how my friend Neekoh (

LiveLoveLA

) incorporates this shoe in her daily outfits with such an edge.
-

ASOS HUEY Heeled Sandals with Ankle Strap
$51-
What can I say more than "polka dots" and "platforms".... not much because these are two of my favorite fashion trends therefore leads us to the hybrid formula for the perfect shoe!
Second on the List.... Accessories
-

Kate

Spade New York - Graceann Round Sunglasses $128-

How perfect and timelessly classic are these round sunglasses from Kate Spade. These round sunnies are the perfect gift to add a little glamour to mom's everyday outfits.
Last but not least.... Jewelry!
-Kate Spade Mom Always Said Idiom Bangle Bracelet $58-
This bracelet is probably one of the cutest and most meaningful worded pieces of jewelry I have ever come across. The inside is engraved with "Mom always said" and in the outside is engraved with quotes such as "
take a chance", "don't forget to floss", "have courage", "wear sunscreen", "eat your vegetables". Thinking of getting a pair of these bracelets one for mom and one for me.
-

BaubleBar

Medium Monogram Necklace $105-
There is no sweeter gift than a gift that is personalized. That is why I am totally digging the idea of giving mom a personalized monogram necklace from BaubleBar featuring the first name initial letters of my two brother's and my name.
-BaubleBar
Yellow Brick Road Bracelet $152-
Nothing says "luxe" and "elegance" more than a gold chunky chain bracelet, plus a bracelet like this is a timeless piece that never goes out of style.
What do you think about my Mother's Day picks. How are you planning on making your momma feel extra special this Mother's Day? Moms are the ones who we inherit our love for fashion, shopping and all of all this beautiful form. Hoping you all have a beautiful, fab and chic Mother's Day and wishing only the best to all the lovely mommas and mommies to be out there.

xx
Ari