[The Fashion Round-up]: Belanova Inspired!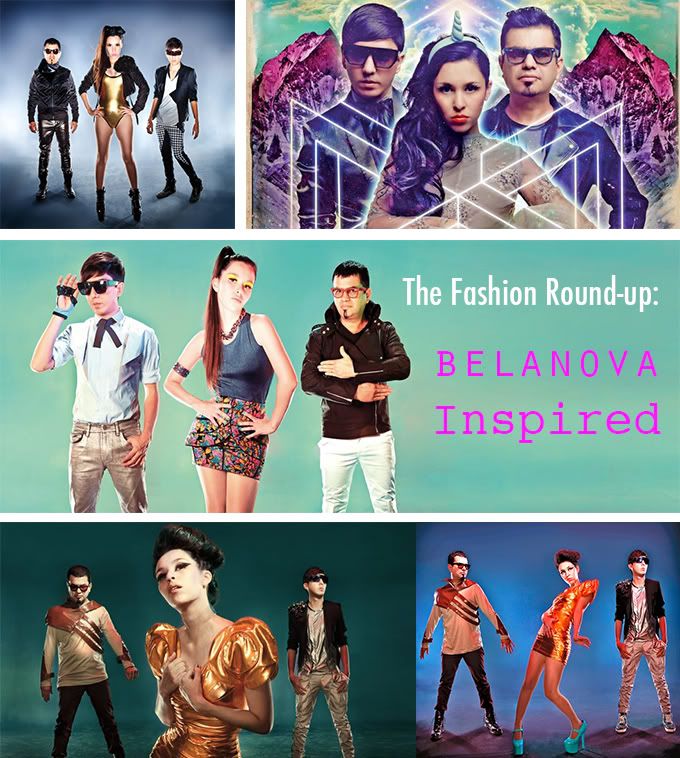 One of my all time favorite Mexican pop groups is Belanova. I will never forget the day I discovered them before they hit the states with their catchy pop music. It was way back in the day when I was forced to go on our annual family vacations to Mexcio. There, in a very small and remote town of Mexico while staying at my tio's house my only savior rescuing me from the endless boredom of being 16 and away from my friends for the summer was Mexican MTV (yes luckily my uncle had cable TV!) where Belanova's

"Por Ti"

music video was being played non-stop.
Since that day I have been a huge, huge fan of Belanova. I love the pop-y electric beats found in their music always lifting my mood and making me smile, just as much as I love the fun, girly and eclectic fashions the group's lead singer Denise constantly rocks! This post has been a long time coming, but finally made it here because I recently got re-inspired to finalize the post thanks to the Belanova concert I attended a few weeks ago. Now, on to the fashion which is the whole reason behind this post!
Girly, futuristic and edgy all at the same time Belanova manages to vibe off all of the above.
The following is a little Belanova inspired Fashion Round-up:
The Details:
1.Nasty Gal London Platform Boot $102

-Fun and super high platform boots, just like the ones Denise rocks on stage.
2.

TOPSHOP

Metallic Jacquard Playsuit $96 -Sweet romper with a modern and minimal feel.
3.

Dorothy Perkins

Cream 3/4 sleeve blazer $55-Collarless blazer with modern style lines adds edge and sophistication at the same time.
4.ASOS Spike Stretch Bracelet $13

- a pop of color is perfect when it's by way of colorful wrist spikes
6.

ASOS

Metal Half Frame Cat Eye Sunglasses $25- A few years back (and in some music videos) Denise was sporting cute little cat ear headpieces, well why not switch it up by adding a fun pair of lavender cat eye sunglasses instead.
7.

TOPSHOP

Floral Metallic Pink Shorts $60- What seems to be the uniform of most stylish lead singers, yeap hot shorts. This metallic pair is a perfect one to dress up.
8.

TOPSHOP

Panel Peplum Shell Top $48- Denise has a love for peplums, I love seeing how throughout the years she keeps on bringing them back and rocking them in different ways.
9.Betsey Johnson Foxxeyy Platform Pumps $105

- Denise's shoe of choice, none other than the super high, super chunky lady-like closed toe pump platform, which is a perfect choice to dance the night away to pop and electric beats!
Now, in order to finish off this post right I leave you with some of my favorite Belanova music videos. xx Enjoy!